This month we will talk about the timings of your wedding day. I will always meet with couples a soon as they book me to give some guidance in planning their wedding day. One of the many things I advise on is the timings for the day. There are a number of factors to take into consideration, especially if you are getting married in a venue (e.g. church) that is separate to the wedding breakfast and subsequent evening celebrations. You will need to allow time for the photographs outside the church and time to travel to the venue where the celebrations are taking place. Try not to have your ceremony any later than 1pm to allow for this. If you are getting married at the same venue you can allow a later start for the ceremony. I always recommend allowing time, not only for the photographs, but also time to mingle with your guests before your big entrance into the wedding breakfast. Something else to consider is whether or not you want the receiving line. This is when you greet all your guests as they enter for the meal. What about the speeches? Do you want them before or after you have eaten. Some, who may be nervous about giving their speech, may prefer to get them out of the way prior to the meal. If this is what you choose I always think serving canapes at the drinks reception is a good idea to keep the hunger pangs away. You'll find that the day goes very quickly and it will be time for your evening guests to arrive before you know it. They are usually invited to start to arrive from 7.30pm onwards so if you can end the wedding breakfast
formalities for around 7pm it will give you (the Bride especially) a little time to freshen up before the evening guests arrive and your go into your first dance together as husband and wife. There is much more information, including suggested timings of events, on the wedding page of  my website. Hover over 'weddings' and a drop down box will appear. A guide to the timings is just one of the pages where you will find much more help and advice to help you in planning your wedding. Do take a look at www.toastmasterbob.co.uk/weddings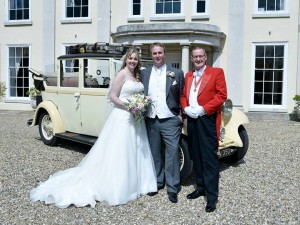 Of course it is your day, and you can do whatever you want whenever you want. I can only advise but if you want to chat with  me about your plans, and how I can serve you on your wedding day, do get in touch via the contact page or give me a call on 07872 114235.